This website will offer limited functionality in this browser. We only support the recent versions of major browsers like Chrome, Firefox, Safari, and Edge.
New Rosy Feature Announcement - Progress Tracking!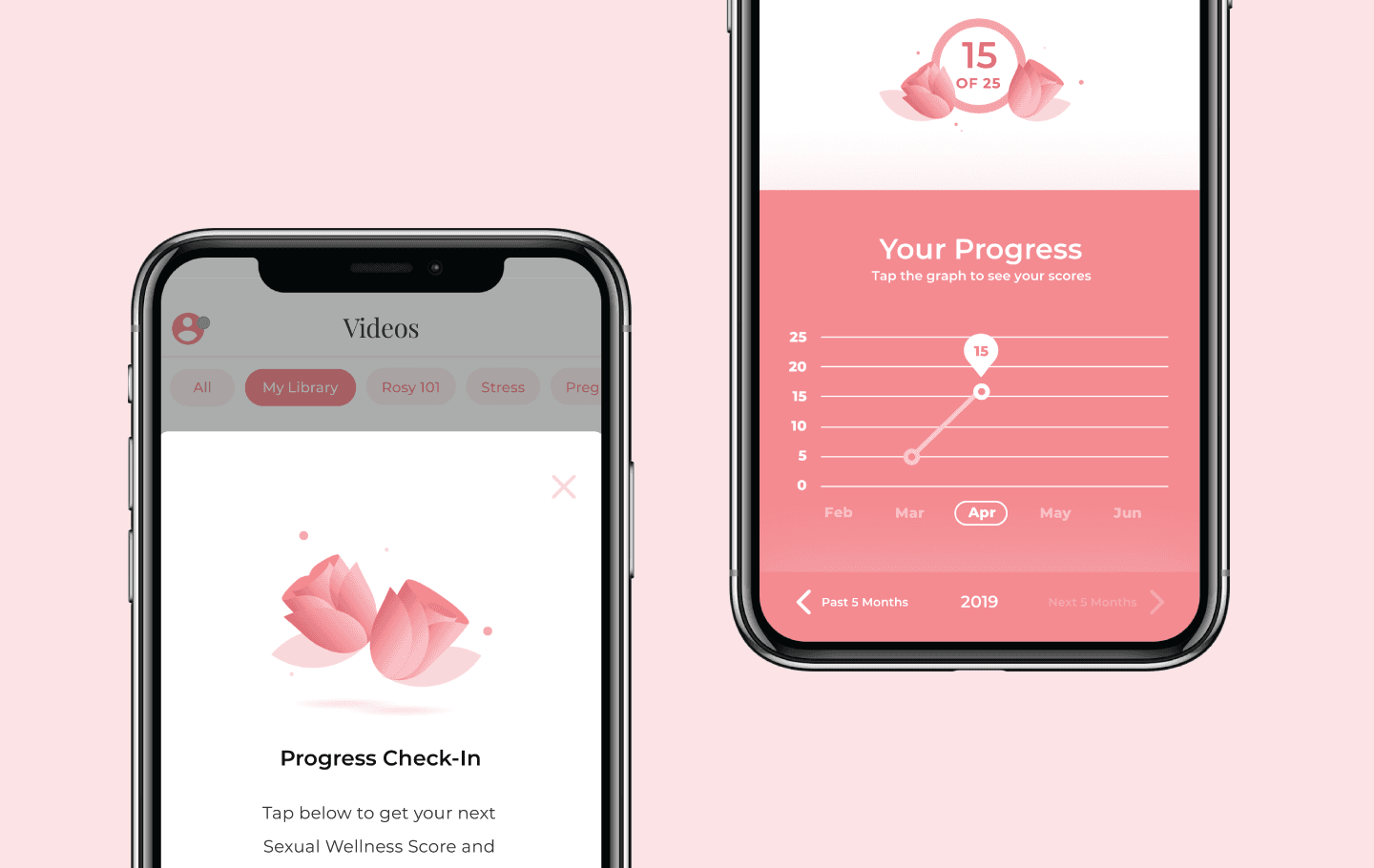 Hello Lovelies! I want to tell you about a new Rosy feature: Progress Tracking with the Sexual Wellness Score. We are so proud of this tool and hope that we are able to show you just how much working with Rosy can improve your sexual wellness. Progress tracking is available to both free and paid users. The next time you log into Rosy, you will automatically have the opportunity to retake the quiz...go ahead and see what it's all about!
How do we calculate the Sexual Wellness Score?
How Rosy tracks your progress is with a 5 question quiz and Sexual Wellness Score. This quiz is based on the FSFI (link: http://www.fsfiquestionnaire.com/) which is used by doctors and researchers to follow their patients who are undergoing treatment.
When do you take it?
You answered these questions the first time you used the app and will be able to get a new score each month when you retake the quiz. When you are eligible each month, the app will automatically prompt you to get your new score. The idea is that the more you use Rosy and incorporate the ideas into your everyday life, the more improvement you will see in your Sexual Wellness Score!
What does the score mean?
When you retake the score, 1 of 3 things will happen. If your score goes up, congratulations! The lessons you are learning in Rosy are improving your sexual health. Keep up the good work! If your score stays the same, consider adding in some Sessions with Dr. Mintz in the app, maybe 2 per week. If your score is going down, it may be time to make an appointment with a doctor or psychologist to see what else might be going on. Only you will know your score, but you can use it to help figure out the next best steps.
Tell us what you think!
Whenever we release a new feature at Rosy, we love to hear what our users think! Please give us your feedback via email: hello@meetrosy.com or in the feedback section within the Rosy app.
Rosy's Mission:
Rosy's mission is to improve sexual health, sexual self-esteem, and overall well-being for women everywhere. We are so excited to incorporate the Sexual Wellness Score into your journey. If you haven't yet downloaded Rosy, just visit the iTunes store and download for free! If you already have Rosy, you can open the app and update your Sexual Wellness Score now to see how you are growing!